HIGHER EDUCATION-SPIRIT DAYS! Monday-tie dye, Tuesday-galaxy, Wednesday-western, Thursday-future career, Friday-future high school colors. SEMANA DE EDUCACION SUPERIOR! Vistete de diferentes temas: lunes-diferetes colores, martes-galaxia, miercoles-vaquer@s, jueves-futura profesion, viernes -con los colores de tu futura prepa.

Coffe with our Counselors, this Friday morning, September 10th from 8:30-9:30am. Join us at our new counseling center and meet our new addition to counseling team. Our counselors will be talking about services they will provide to our students and families.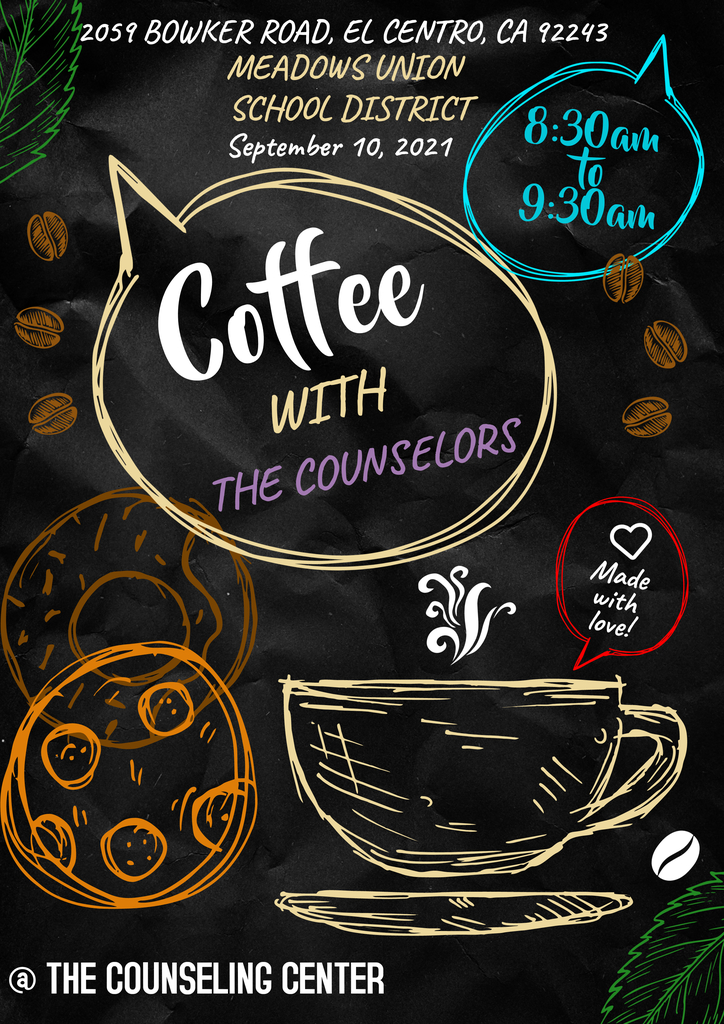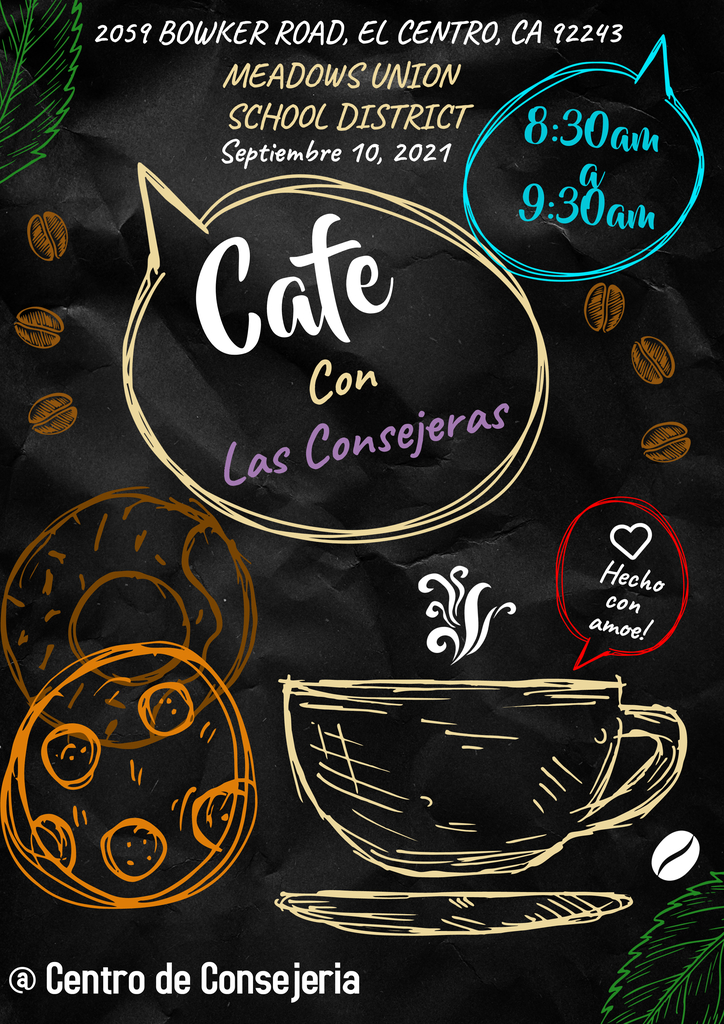 LAST TWO DAYS for registration!! Students without complete registration packet will not be assigned to a classroom. ÚLTIMOS DOS DÍAS para inscripciones! Estudiantes sin paquete completo de inscripción no serán asignados a un salón de clase.
URGENT: if you haven't turned in a complete registration packet, your student will NOT be assigned to a classroom at Meadows. Registration is NOW in cafeteria. Classes start August 19th, 2021 URGENTE: si no ha entregado un paquete completo de inscripción, su estudiante NO será asignado a un salón de clase de Meadows. Inscripciones HOY en la cafetería. Clases empiezan el 19 de Agosto, 2021.

8th grade parents- Upward bound program is recruiting 8th grade students for their Summer Academy and beyond. Upward Bound serves: students from low-income families in which neither parent holds a bachelor's degree.

El Programa de Aprendizaje de Verano de Meadows se ofrecerá a los estudiantes que actualmente se encuentran en los grados TK-7. Los estudiantes recibirán instrucción académica y aprendizaje socioemocional. Comenzará del 21 de junioal 16 de julio de 8 am a 11:50 am. Si su hijo asistirá, debe completar el formulario de permiso a continuación. Haga clic en el enlace y complete un formulario de permiso (uno por niño) antes del viernes 28 de mayo.
https://docs.google.com/forms/d/e/1FAIpQLSf1vb8NQh5Gvy1woGp9vuoUS41wJ8yTmQDQtaaMTLK2Zm0dnw/viewform

Summer Learning Program will be offered to students who are currently in TK-7th grade. Students will be receiving academic instruction as well as social emotional learning. It will begin June 21st-July 16th from 8 am-11:50 am. If your child will be attending you must complete permission slip below. Please click link and complete a Permission slip (one per child) by Friday, May 28th. Click Link: Summer Learning Program Permission Slip
https://docs.google.com/forms/d/e/1FAIpQLSf1vb8NQh5Gvy1woGp9vuoUS41wJ8yTmQDQtaaMTLK2Zm0dnw/viewform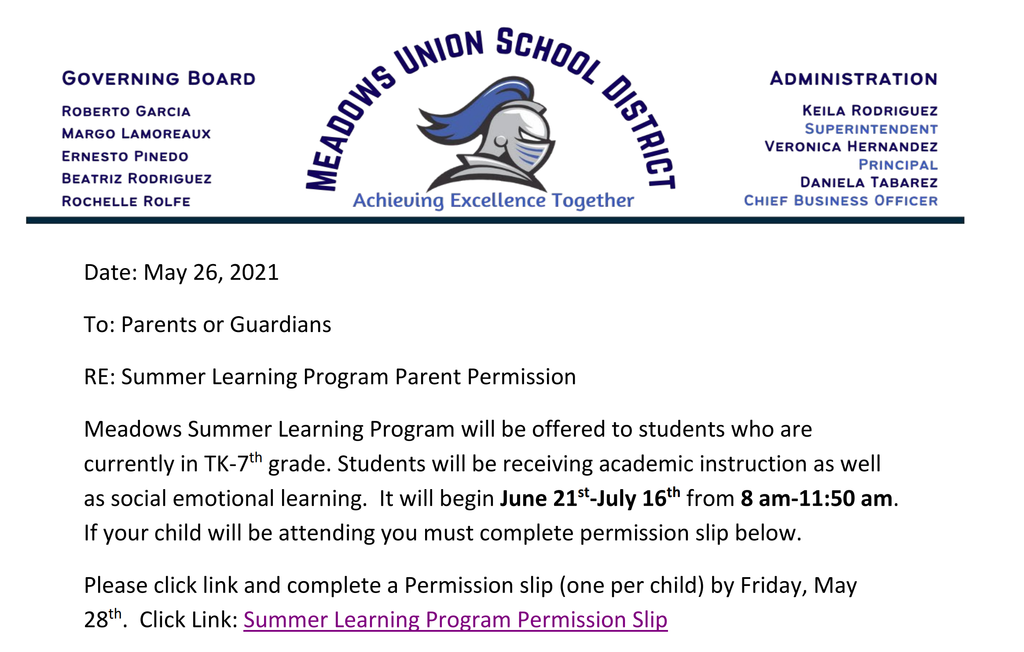 Read Across America 2021- March 1st-5th Monday-wear green Tuesday-wear yellow Wednesday- wear BLUE Thursday-wear a hat Friday-wear your Pj
Honors Recognition Assembly pictures will be posted soon!

Book returns and pick up today from 7:00-10:00am. 📚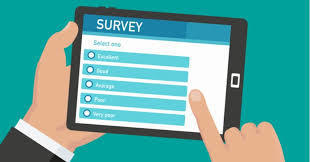 If you have reserved books please don't forget to pick up today! Parents please add the Meadows Library to your Remind to stay updated on all things library. Si tienes libros reservados, no olvides recogerlos hoy. Padres, por favor agreguen la biblioteca de Meadows a su Remind para mantenerse actualizados sobre todo lo relacionado con la biblioteca.
https://www.remind.com/join/meadowsli

Inclusive Schools Week, December 7-11. Let's create awareness for different disorders and conditions by wearing colors on different days: Monday- Denim for rare genetic disorders Tuesday-Green for Mental Health Wed- different colors, for Autism Thursday-Purple-for ADHD, Trisomy9, Trisomy21 Friday-Meadows colors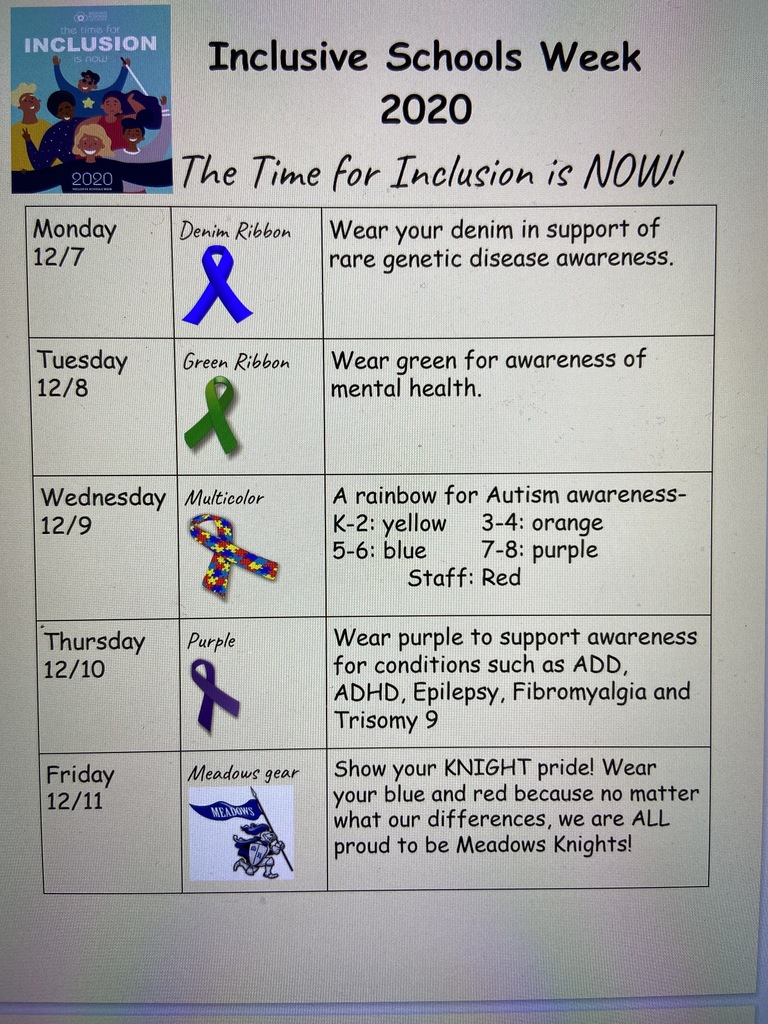 School is closed for Thanksgiving Break. It will reopen on Monday 11/30/20. Have a safe and happy Thanksgiving!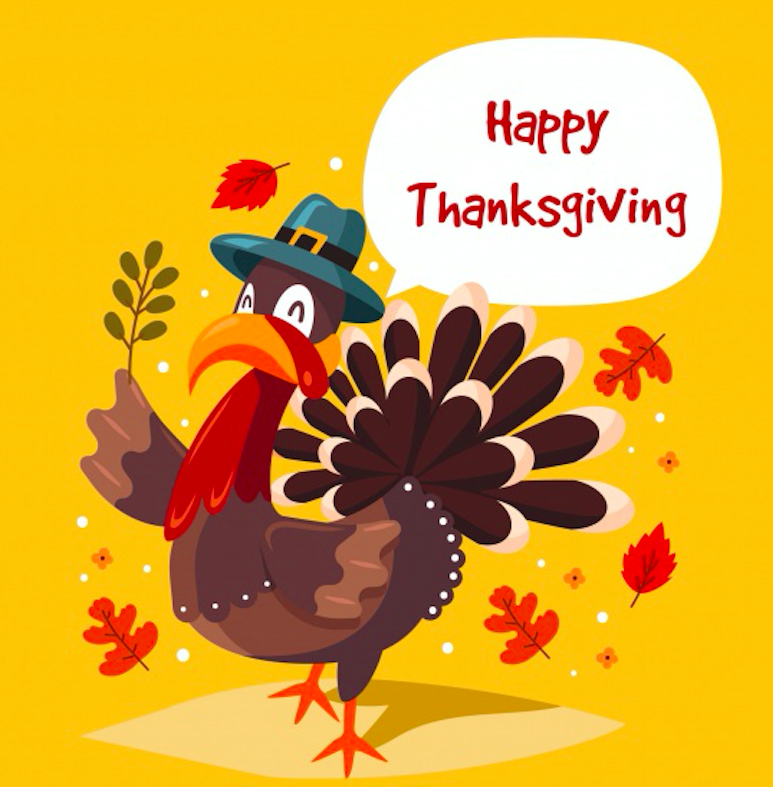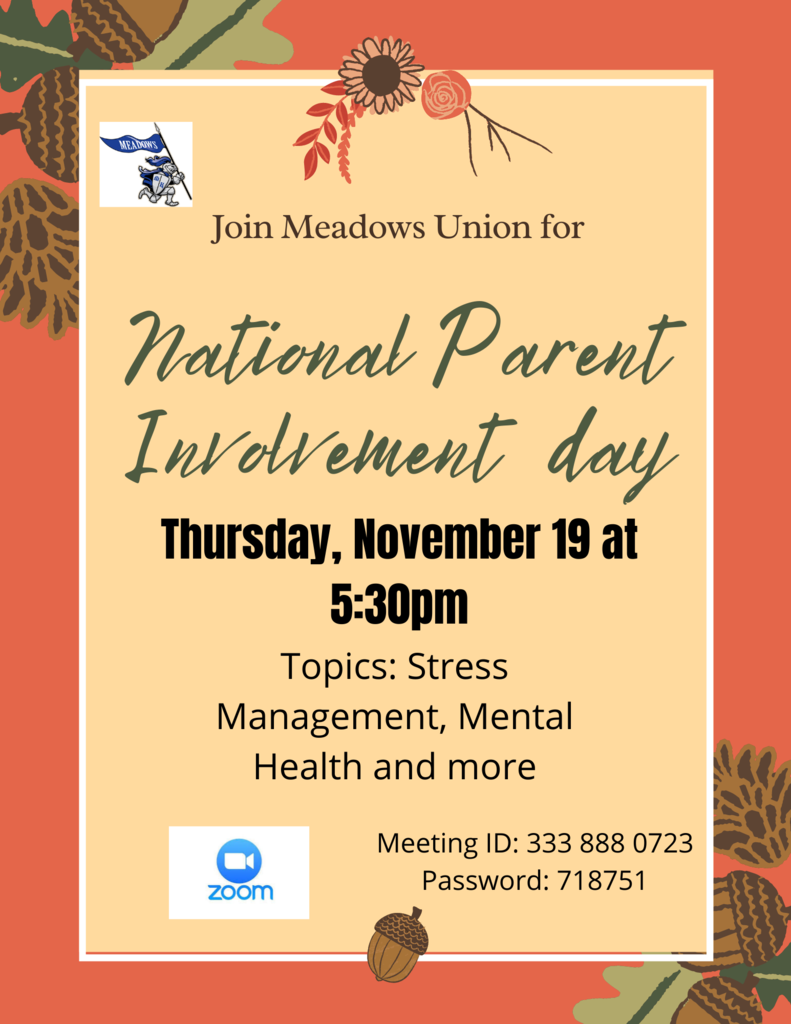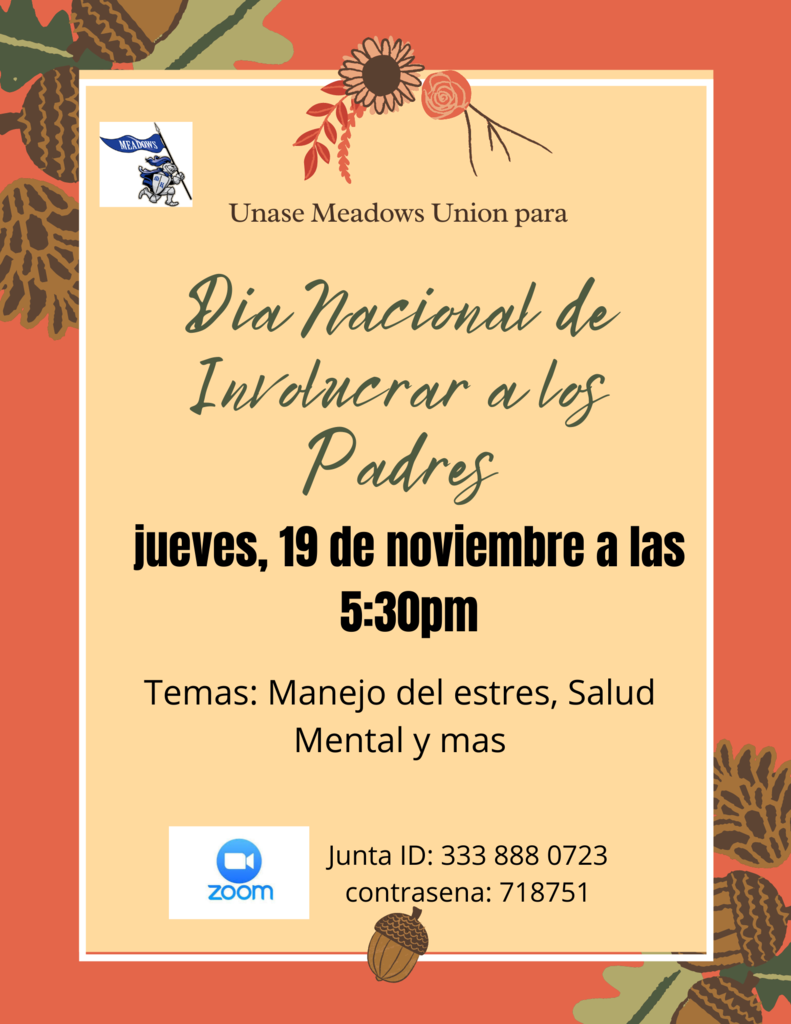 Meadows Parents please fill out survey for Parent Involvement Day. Padres de Meadows por favor llene el sondeo para el dia de Involucración de padres.
https://forms.gle/1NH12rbHsQ5TyemP8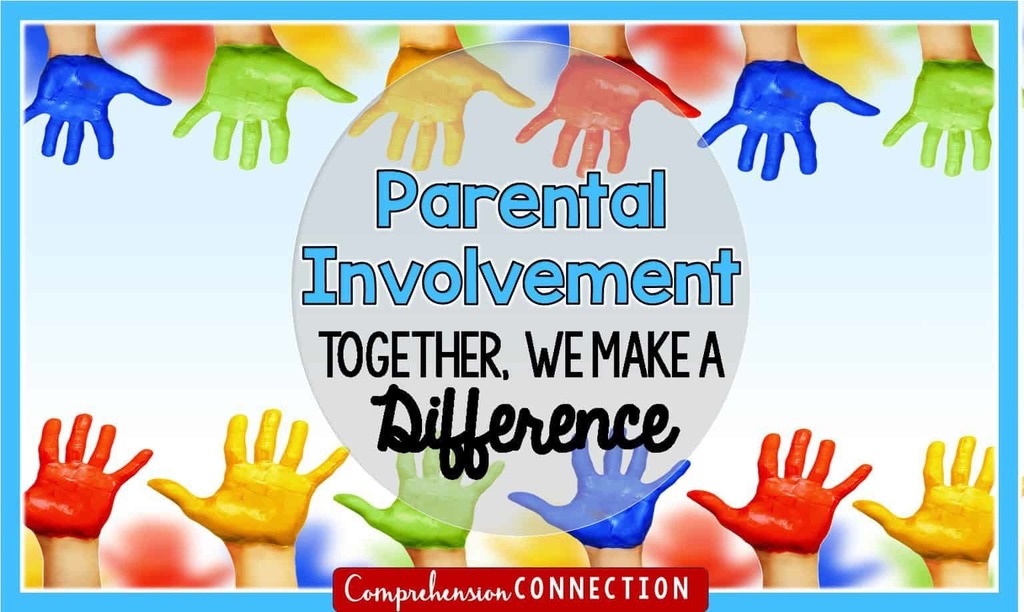 Caridades Católicas Talleres Virtuales de Ciudadanía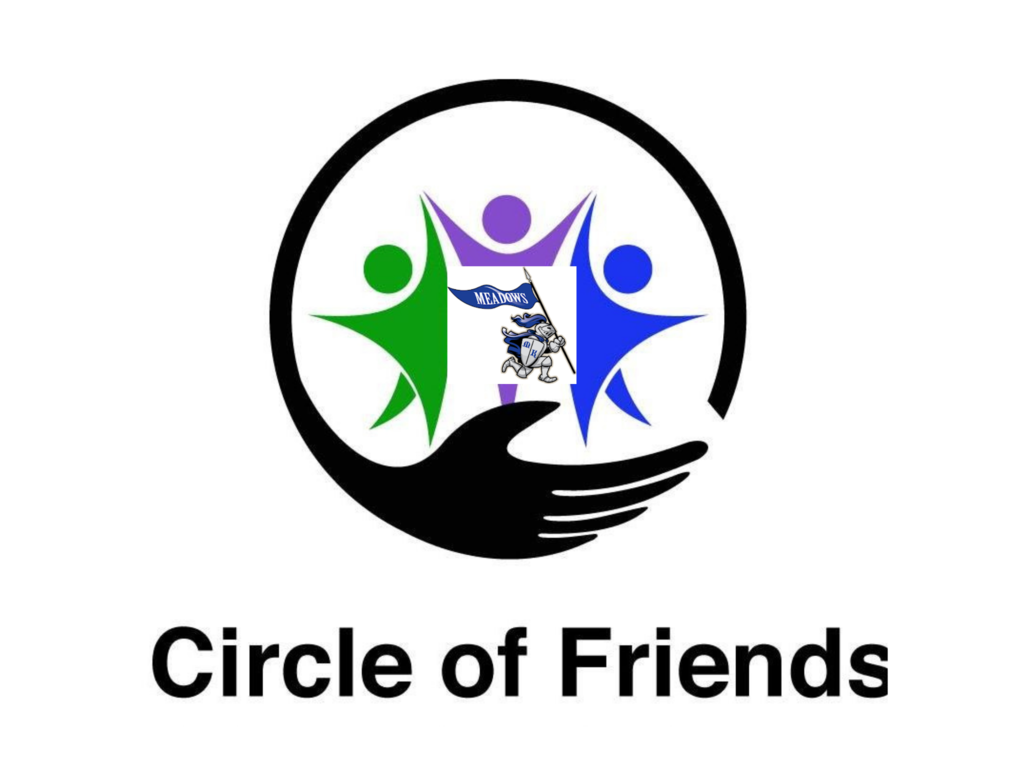 Parent Conference Reminder

COFFEE WITH ADMIN-Friday October 30, ENGLISH SESSION 4PM RAFFLE PRIZES! ZOOM Meeting ID: 873 7767 3704 Passcode: 718878 CAFÉ CON ADMINISTRACIÓN-Viernes 30 de Octubre, SESION EN ESPAÑOL 5PM RIFA DE PREMIOS! ZOOM Meeting ID: 835 3627 2408 Passcode: 827891